Haji P. I. Ahamed Koya, the pioneer of craftsmanship
Kamakantakath Kunhammed Koya Haji who was one of the well renowned businessmen in Kerala and Arab World started his Timber Company in 1885 at Calicut. As a Commission Agent, he was having great business link with Arab businessmen from Kuwait, Bahrain, UAE, Oman, Yemen, Iran etc. His craftsmanship in Arab Booms (Machuva –Vessel) was well known over Arab World and got many boat building orders from various companies. He passed away in 1919 and his son Haji P. I. Ahamed Koya carried on his business.
Haji P. I. Ahamed Koya expanded his father's business into other Arabian Gulf countries under the banner of M/s Haji P. I. Ahamed Koya. He was a great business leader who could attract many merchants from Arab World.
Haji P. I. Ahamed Koya refined his skills and expanded his impressive knowledge of wooden ship construction by concentrating on the fundamental elements of his craft; a craft which he defines as "the art and mystery of shipbuilding." He imported Arabian dates and built a sound market in all over Kerala. He passed away in December 31st, 1971.
شركة حاجي بي اي أحد گویا ( 118 ) شركة معروفة شیکاگوشه گیر الهند حيث تقوم تقديمالخدمت في صناعة السفن الخشبية وترميمه وتحلیپ گ تقوم بتقديم الإشرت
وحاة مواهش
ن ت شركة في عمده و در طی این مداح کمشترک گنح احت گوبا، و كان تاجرا معروق فينجرة الأحنلي و وکن تبار گیرد و تحت تهتم العربي ورئه لحجي أحمد گویا بعد وقت علم ۱۹۱۹ م ركز اهتمامه في الحصة في فن صناعة السفن لخشية التي توارثه عن الأجيال واصبحت الشركة خلال فترته من كبار المضدرين لنفن الخشية والمود الانشابة ومتحف بات جوز الهند، والمسامير، ولبراغي، والمنتجات العناية وعردا. كما قد
باستيراد التمور من جميع الدول الخليجية
وبعد فترة ناجحة ليلة الحاج بي تي آمد گوياء ورثة تنته هي ان کي و کد احمد کوي واليد گيرند گویش گويا ولدنيا. بشر والسيد بیا هم وليد بيا مصطفی و واصلت الشركة نشاطها بر نلتهم بنفس الاسم والأسلوب وحنوا جو والدم وتوسع نقود الشركة کی مثبتة متجاور و ممباي وفي بداية رئاسته عمل في الشركة أكثر من مدمن الفلبين وقامت بصناعة ، الي ۲۰ سفينة علويا كما تلقث الشركة طلا كثيرا عن الدول العربية في هند
الفترة
رغم أن الحكومة الهندية قد حظرت تصدير المراكب الخشبية قد تلفت شرتا بتصريح خاض من الحكومة ودلك بوالة حكومة الكويت والإمارات العربية المتحدة و دولة قطر لتنير الصرف الخشبية، إلى تلك الدول كما حصلت الشركة العديد من الجوائز الوكية و العطية التي انها المجلس الأعلى النرويج النتة تحت وزارة التجارة الحكومة اليد التصدير التولي لمراكب
الخشبية لعيد الات
وفي الوقت الحاضر، وتجز الشركة بهذه الانجازات وبقايا استطاعت لتكوين علاقات تجارية وطيدة مع رجال الأعمال والعثلات الملكية في دولة الكويت والبحرين والدولة قطر والإمارات العربية المتحدة وسلطنة عمان و جمهورية ایران الإسلامية وغيرها. وقد نالت الشركة رواجا گیرا وتقديرا عظيما براعتها في صنع المراكب الخشبية المختلفة مثل بايوس وسامبوك و خوشامد
اكثر من قرن على الشادها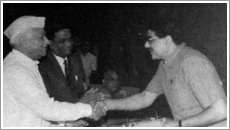 His sons K. V. Kunhammed, K. V. Koyassan Koya (Bichu), P. O. Basheer, P.O. Hashim and P.O. Musthafa took over the Company and continued the business in the same name and style and expanded the business to Bombay, Mangalore and Beypore. During this period there was a good demand for making Arab Booms (Machuva) and it lasted for two decades.
At that period company was making about 20 to 30 Booms (Machuva) every year at Beypore and Mangalore. We received several State and National Awards constituted by Engineering Promotion Council under Ministry of Commerce (Govt. of India) for building Arab Booms with quality craftsmanship and international export of wooden ship and its services. We have exported lengthy teak timber logs with special permit from Government of India for Qatar, UAE and Kuwait for the repair and maintenance of booms built at Beypore.
We make all type of furnitures
M/s Haji P.I. Ahamed Koya offers services in Wooden Dhow building, restoration, repair, consultation and Wooden Dhow materials since 1885. HPIAK has the capability to build different type and models of Traditional Wooden Dhow (Machuva) such as Boomb, Sambook etc.
Kamakantakath Kunhammed Koya Haji
Founder and Pioneer of the Company
Haji P. I. Ahamed Koya
Son of Kunhammed Koya Haji
K. V. Koyassan Koya - Bichu
Son of Haji P. I. Ahamed Koya